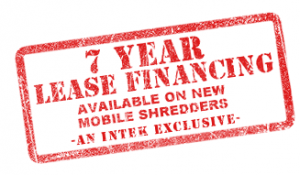 Intek Truck and Equipment Leasing has an experienced and knowledgeable staff with years of experience leasing all types of Balers, Compactors, Conveyors, Electronic Destruction Equipment, Grinders, Separators, Paper shredders, Mobile Paper Shredders (Shredding Trucks) .  We understand the shredding and destruction industry.
Specializing in Truck leasing for the Document Destruction Industry Intek Leasing has the understanding and expertise necessary to help your business grow.  With customized lease terms to match your individual needs Intek can help you acquire the equipment you need.
Start Up?
Please feel free to call us with any questions you might have about the Mobile Document Destruction Industry; we have worked with companies big and small and we can put you in touch with our network of clients and learn valuable lessons from seasoned veterans.
An Intek Exclusive
Intek Truck and Equipment Leasing is proud to offer a 7 year lease financing program on New mobile shredding trucks.
Benefits
Some benefits of leasing your shredding and destruction equipment with Intek:
We are not brokers. We own all our vehicles, so you deal with Intek throughout the entire course of the lease
Customized payment schedules to fit your company's specific needs
Residual and Dollar buyout leases
The ability to lease any year, make or model
Off balance sheet financing.  Unlike most loans or lines of credit, we are non-reporting, so you are not tying up current lines of credit not to mention there are no other liens placed on your property or receivables
We can handle all of the motor vehicle work
Customer is able to take advantage of the tax benefits of a lease
We are a NAID Vendor and sponsor of Shredding 101
At Intek we pride ourselves on the fact that over 65% of our new business is repeat business.  We have a professional staff that handles all of the paperwork and takes the time to get to know and understand each customer.  At Intek we look to establish a long term relationship with our customers.  Please do not hesitate to contact us and get set-up with a custom lease program to fit your specific needs.
Shredding Equipment we finance:
Balers
Compactors
Conveyors
Electronic Destruction Equipment
Grinders
Separators
Shredders
Paper Shredders
Please call our representative Paul with any questions you might have about the Mobile Document Destruction Industry; he has worked with companies big and small located all over the United States.
Paul Garfunkel
Shredding and Destruction Lease Specialist
Phone: 973-403-7788
Fax: 973-403-3232
Cell: 973-868-2345